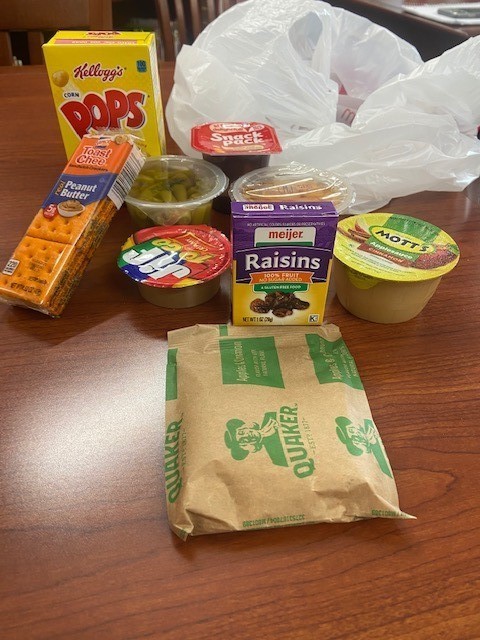 Beginning on the afternoon of Thursday, March 19, 2020, Milton-Union Schools and the Bulldog Bags Program will continue their partnership to provide food items and student meals per the following schedule.
Thursday, March 19, 2020 – Several food items (as pictured) will be distributed to support individual K-12 students for Friday and over the weekend. These items are to support young people needing something to eat for the weekend, not distributed with the intent of providing full meals. (Please note: Food items will be distributed to as many district students as possible until gone.)
Monday, March 23, 2020 & Monday, March 30, 2020 – Staff and community member volunteers plan to prepare and distribute five lunches and five breakfast items to individual students. These items are planned, ordered, and distributed to sustain children and young people for five days of school meals. Many of these items will require refrigeration and, considered together, will comply with federal lunch regulations.
Please note the following procedures for organization, distribution, and pick-up.
The Technology Department will send a mass e-mail message to parents and caregivers with lunch account numbers appropriately addressed to individual students. Each e-mail message will be unique to an individual student. Lunch account numbers should not be widely shared.
In the event e-mail addresses on file with the district are inaccurate, parents and caregivers may also contact teachers directly via e-mail or other communication application. Teachers have access to individual student account numbers and can provide this information person-to-person. More than likely, this process will affect K-5 students more so than grades six through twelve. Our more experienced students are familiar with their account numbers since they use them to access other web tools and applications for classroom instruction.
For all three dates, distribution will occur beginning at 4:00pm and end at 6:00pm.
Students will be asked to provide their lunch account numbers for district purposes. Food Services will need to reconcile the number of students served for inventory and other administrative purposes once buildings return to their regular schedules. Lunch account numbers will be taken verbally upon parent, caregiver, and student arrival.
The district Food Service Operation, along with volunteer support, will attempt to sustain this process weekly for the foreseeable future.
At this time, all distribution will occur on school grounds at or near the Athletic Entrance on the south side of the building. Drivers should use the east entrance for the elementary parking lot and continue toward the back of the building near the Athletic Entrance. Staff and community member volunteers will direct you. After pick-up, drivers should continue through the parking lot towards the tennis courts and exit via the west drive near the high school.
Distribution and pick-up will follow a "grab and go" model. Parent and caregiver drivers along with their students should remain in their vehicles. You and your student should be prepared with lunch account numbers and ready to interact quickly with volunteers.
Please be patient with us as we initiate this process. Adjustments will be made as we become more and more familiar with the system. Thank you!